12 Project Case Studies, 2010 - 2020 / Press
01 / La Mer x Mario Sorrenti, Edge of the Sea Exhibition, Shanghai, 2019
For La Mer's Edge of the Sea exhibition at Shanghai's Power Station of Art, the brand wanted to capture the imagination of younger Chinese consumers and share the story of their signature cream for the Alibaba TMall launch. It needed to bring details of La Mer's process to life, such as physicist Max Huber's foundational 6,000 Miracle Broth experiments as well as the highlighted collaboration by father and daughter photographers Mario and Gray Sorrenti.

Bridging the online and offline experiences, guests check-in through WeChat, the most popular social media app in China with one billion monthly active users. Over 20,000 guests experienced Edge of the Sea during the 10-day exhibition, uploading thousands of images of the multi-sensory installations to WeChat, resulting in more than 1 billion La Mer social media impressions during the event. According to La Mer's parent company Estée Lauder, strong sales and earnings in China have increased primarily driven by marketing and promotional events like this one. - Excerpt from pattenstudio.com

The exhibition brought to life through a range of digital and tactile treatments, immersions and interactions, within a spatial expedition of discovery. "It required us to bridge strategic thinking, retail experience and brand storytelling in a new way, for a new market." says Christopher Skinner, Founder and Principal of School House. - Excerpt from prnewswire.com, October 14, 2019


Credits : La Mer X Mario Sorrenti, SchoolHouse (Lead Agency) with Patten Studio, Luciforma, Apax
Natalie Cheng, Freelance Design Consultant for SchoolHouse, New York City
Role: Design Development, Construction Drawings, Digital + AV Integration w/ 3D Form
Elle Magazine / China Press Coverage
02 / SK-II Future X Experiential Store, Tokyo, 2018

Together with P&G, we (Huge Inc.) set to disrupt the conventions of the beauty industry by creating a pop-up smart store in Shibuya—one of Tokyo's trendiest neighborhoods. We were on a mission to elevate the skin-care experience and deliver a curated journey using the powers of emerging technology.

Skin is unique, but skincare retail is one size fits all, so we started with one question: How can we use emerging technologies to create a store that truly adjusts to individuals? Using facial recognition, computer vision, machine learning and sensor technology, we created a revolutionary and highly personalized destination for a new and tech-savvy generation of shoppers. Visitors could create a custom art piece based on real-time facial expression; use a proprietary skin scan that analyzed both visible and invisible issues—without anything touching their skin; and experience custom skincare advice and product recommendations, unlocked using crowd facial recognition technology.

Beyond the personalized content, the Smart Store also announced an upcoming beta product—a Smart Bottle with embedded sensors to track daily product usage that employs a digital advisor to guide the product experience. - Excerpt from a text by Huge Inc., frameweb.com, October 16, 2018

Credits: Huge Inc., Brooklyn (P&G Client), Dentsu (Partner)
Natalie Cheng, Freelance Creative Director, Huge Inc., Brooklyn
Role: 3D Design for AI/VR Enabled Pop-Up Store, Construction Documents
Frame Magazine Awards / Press Coverage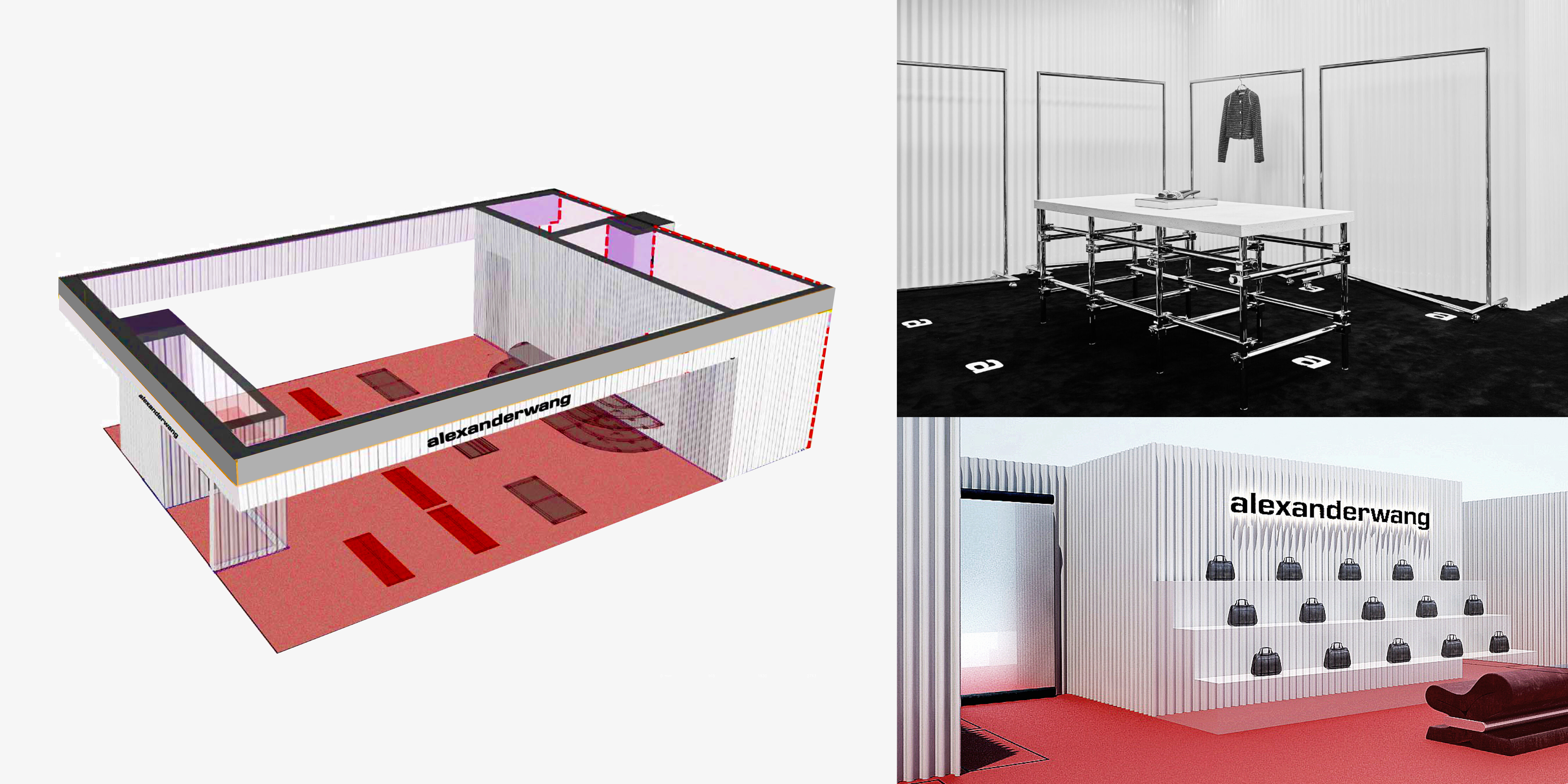 03 / Alexander Wang, Shop-in-Shop Projects, 2019 - 2020

These Shop-in-Shops at various locations across Asia house the Collections, T by Alexander Wang, footwear, and accessories. The shop fixtures are made of stainless steel pipe rail fittings which can be configued in various different ways for maximum flexibility. Corrugated mesh panels form a neutral backdrop for display, while the bright floorcovering contrasts with the predominantly black merchandise. A new lower case logo appears at the center of the shop, in a backlit format. For the accessories area seating, custom pieces designed by Jumbo NYC were specified.

Credits: Alexander Wang Inc., New York City
Natalie Cheng, Consultant / Alta Architecture P.C. (2019-20)
Role: Design Development, Construction Documents + Fixture Details
04 / Madewell Store, Hudson Yards NYC, 2019

It's also the sister brand of J Crew, and while the long-time arbiter of geek-chic on the high street has been in a slow decline since losing its creative leader Jenna Lyons last year, Madewell — which launched in 2006 — has been quietly cultivating a dedicated following among those who suddenly found themselves with a wide-open hole in their wardrobes."Madewell is for denim lovers — or basically anyone who appreciates timeless designs that put you at ease," says Joyce Lee, head designer. - Excerpt from article in standard.co.uk, March 13, 2018


Hudson Yards is a 28-acre (11 ha) real estate development in the Chelsea neighborhood of New York City. Upon completion, 13 of the 16 planned structures on the West Side of Midtown South would sit on a platform built over the West Side Yard, a storage yard for Long Island Rail Road trains. The first of its two phases, opened in 2019, comprises a public green space and eight structures that contain residences, a hotel, office buildings, a mall, and a cultural facility. The second phase, on which construction has not started as of 2020, will include residential space, an office building, and a school. Related Companies and Oxford Properties are the primary developers and major equity partners in the project and the architectural firm Kohn Pedersen Fox designed the Master Plan. - Excerpt from Wikipedia

Credits: Madewell / The J Crew Group Inc.
Architect of Record: VMAD Architecture, NYC
Natalie Cheng, Store Planning Consultant for The J Crew Group
Role: Store Planning + Merchandise Zoning, Storefront Design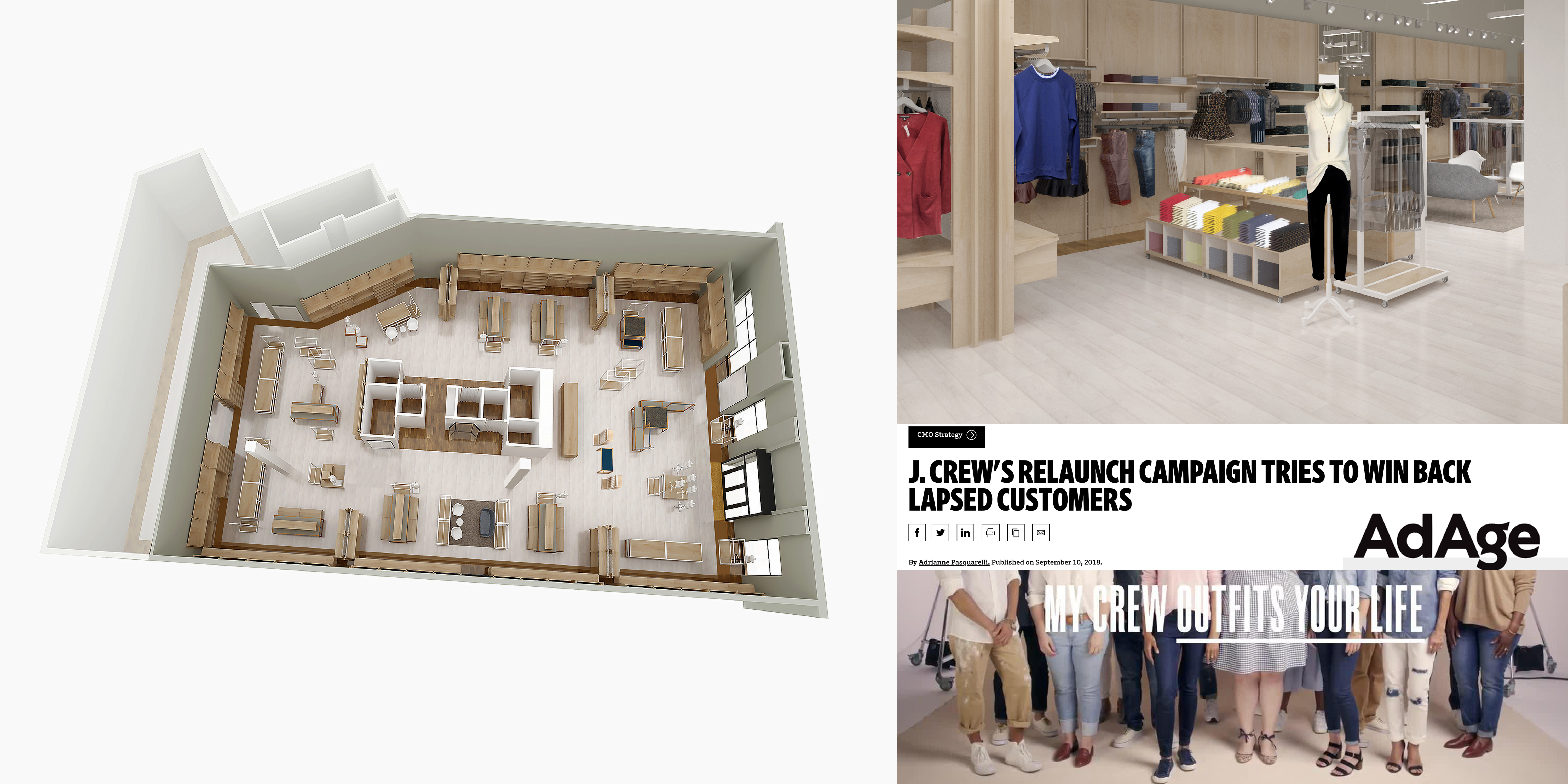 05 / J. Crew, Brand Relaunch, 2018

For the first time in almost four years, J.Crew is seeing an increase in sales. The clothing retailer struggled with a sales slump for 15 consecutive quarters before it finally reported a one percent rise last quarter. At the helm of the brand is their new CEO, Jim Brett, who was hired last summer to turn the company around. The West Elm alum is now leading the relaunch of J.Crew on Monday with a range of prices and sizes "to reflect America and the diversity of America," according to Brett.

"We wanted to broaden the view to include more sizes, more aesthetics, more fits, and a better value range," he told "CBS This Morning" in his first television interview since becoming CEO. Brett said the brand was missing "gateway products so people can enter the brand. We were starting too high. So it's not about staking all prices down. It's just about having those easy pick-me-up items so that anyone who walks in the store can walk out with something." - Excerpt from CBS This Morning TV Interview, September 5, 2018

Credits: The J Crew Group Inc. / Vanessa Holden, CMO
Architect of Record: Lalire March Architects, NYC
Natalie Cheng, Store Planning Consultant for The J Crew Group
Role: Store Planning + Merchandise Zoning, Fixture Design
Ad Age Magazine / Press Coverage
06 / Espoir Cosmetics Concept Store, Seoul, 2016
For a Cosmetics concept store in Seoul, ALTA Architecture pays tribute to the fashion show catwalk & backstage zone. The eSpoir shop is situated on Gagnam-daero, a busy commercial street that is home to many Global Brands. An illuminated central catwalk creates symmetry, and forms a main axis that defines movement through the 75 square metre space. Black Industrial pipe fittings create a flexible and modular fixture system which can be deployed in hanging, wall mounted, or rolling table configurations. At the end of the catwalk, a seamless LED video animation adds a sense of theatrics, and draws curious passers-by into the Store. The LED screen provides a digital canvas to showcase seasonal campaigns & new launches.

Each Fixture has mirrors, a changeable magnetic graphics board, and generous drawer space for product storage. Strategically placed mirrors draw in natural light from the street, and allow customers to self-test the products at standing height. In addition to the pragmatic function, the mirrors alter the viewer's experience at times by fracturing and expanding the perception of space. Beyond the open sales floor, the program called for a small Make-Up Artist Studio and a semi-private room for consultations. The Storefront and adjacent mirrored interior wall reflect the dynamic pedestrian and traffic patterns of the street beyond, and enable customers to catch a glimpse of their makeover on the way out. - Excerpt from VMSD Magazine, October 2018

Credits: Alta Architecture P.C. (Concept)
Natalie Cheng, Founder, Alta Architecture P.C.
Role: Concept + Fixture Drawings, Visual Merchandising
VSMD Magazine / Press Coverage
Retail Design Blog / Feature
07 / Alexander Wang Pop-Up Stores, 2011 - 2012
These Pop-Up shops at various locations across Asia (Singapore, Bangkok, Hong Kong, Seoul) house the men's and women's collections, diffusion line T by Alexander Wang for men and women, footwear, and accessories. The Store fixtures are made of pipe rail fittings which can be configued in various different ways. In lieu of solid wall partitions, a woven mesh screen separates the different merchandise zones within this raw concrete shell. The mesh screens create a moire effect, and a sense of drama and mystery as one circulates through the space, along with a unique Storefront presence. 2011-2012 was a pivotal moment for Alexander Wang, highlighted by the Asia Pacific expansion and numerous Industry accolades for the young NYC based Brand.
Credits: Alexander Wang Inc., New York City
Natalie Cheng, In-House Architect (2011, 2012),
Consultant / Alta Architecture P.C. (2012, 2019-20)
Role: Design, Logistics, Drawings, Project Management
WWD / Press Coverage
08 / Alexander Wang Beijing Santlitun Store, 2012
The Beijing store measures a grand 565 square meters spread over two floors of a modern structure in Sanlitun Village, the Chinese capital's nucleus of high-end lifestyle. The design of the retail space is a collab of Wang's New York HQ and Paris-based architect Joseph Dirand, and in terms of aesthetics it's pretty much an extrapolation of the New York flagship store's sleek concept, featuring a strong focus on raw materials with an emphasis on marble and bronze used in sculptural statements.

Upon entering shoppers are greeted by the strong elements of these raw materials that create striking statements with a monolithic marble wall cut from one stone and bearing the resemblance to a rorschach inkblot test. Marble reappears in the staircase that is between one polished bronze and one mirrored wall. A mirrored bronze sculptural prism bisects the upper floor, along with angular walls embedded with multi-faceted bronze shelving. Apart from the 1950s vintage de Sede black leather sofa on the ground level, all furniture and fixtures are customized, including the blackened bronze bars, infinity tables of marble plates framed in blackened bronze, and a concrete sofa with goat hair and a leather ottoman with straps. The new store carries the brand's entire men's + women's collections, in addition to the recently launched objects collection. - Excerpt from Retail Design Blog, May 31, 2012

Credits: Joseph Dirand Architecture, Paris (Concept Design)
Natalie Cheng, In-House Architect, Alexander Wang Inc., New York City
Role: Space Plannning + Design Logistics, Fixture Development + Sourcing,
BOH Layout, Project Management + Value Engineering
WWD / Press Coverage
Retail Design Blog / Feature
09 / Alexander Wang Asian Expansion, 2011 - 2012
First Stop, New York, Next Stop Beijing. That's the route of the Alexander Wang retail express, set to gather major speed beginning next month with the opening of the designer's Beijing flagship, to be followed in short order by several other outposts. By the end of the year, the designer will have 15 of his own stores, all but one in Asia. Wang's first and only other store to date opened on Grand Street in New York last February. - Excerpt from WWD, February 8, 2012
Credits: Alexander Wang Inc., New York City
Natalie Cheng, In-House Architect (2011, 2012),
Consultant / Alta Architecture P.C. (2012, 2019-20)
Role: Design, Logistics, Drawings, Project Management
WWD / Press Coverage
010 / The Body Shop, North America, 2015 - 2016
The Body Shop International plc is a British cosmetics and skin care company owned by L'Oréal. It was founded in 1976 by Anita Roddick and currently has a range of 1,200 products which it sells in 2,500 franchised stores in 61 countries. In March 2006, The Body Shop agreed to a £652.3 million takeover by L'Oréal.

Following her death in 2007, Prime Minister Gordon Brown paid tribute to Dame Anita, calling her "one of the country's true pioneers" and an "inspiration" to businesswomen. He said: "She campaigned for green issues for many years before it became fashionable to do so and inspired millions to the cause by bringing sustainable products to a mass market. She will be remembered not only as a great campaigner but also as a great entrepreneur." - Excerpt from Wikipedia

Credits: The Body Shop, L'Oreal USA, New York City
Natalie Cheng, Consultant / Alta Architecture P.C. (2015 - 2016)
Role: Creative Design, Store Design, Visual Merchandising
WWD Beauty / Press Coverage
011 / Chanel Fragrance Counter, Saks NYC Flagship, 2013

Fashion design house founded by Gabrielle "Coco" Chanel in 1910. The iconic Chanel suit was introduced after the war, in 1954. Chanel died in 1971. The first Chanel fragrance, Chanel No. 5, was launched in 1921, and like other early Chanel fragrances (Chanel no. 22, Bois des Iles, Gardenia and Cuir de Russie) was created by perfumer Ernest Beaux. Various apocryphal stories surround the creation of Chanel No. 5, including the well-known tale that the final formula was the result of an error on the part of Beaux's assistant, who mistakenly increased the intended amount of aldehydes. Regardless, No. 5 was a huge seller and became one of the world's best known perfumes. - Excerpt from nstperfume.com

Credits: Chanel USA Inc., New York City
Natalie Cheng, Architectural Consultant for Chanel USA Inc.
Role: Design, Construction Documentation, Project Management
NYT Article
012/ La Mer, Bergdorf Goodman NYC, 2010
Through the use of backlit onyx, wave wood panels, automotive paint, glass & stainless steel, the design palette references both nature and modern science. The aquarium at selected flagship locations alludes to the Ocean, the origin of La Mer's essential ingredients. Further inspiration was drawn from the vision of Stanley Kubrick's 2001: A Space Odyssey.

Half a century ago, aerospace physicist Dr. Max Huber suffered burns in a laboratory accident. Neither medicine nor science offered the benefits that Dr. Huber sought, so he began a personal quest to transform the look of his skin. After twelve years and 6,000 experiments, he perfected the precious, nutrient rich Miracle Broth (TM), the heart of La Mer's profound powers of transformation. - Excerpt from Cremedelamer.com
Credits: Estee Lauder, New York City
Natalie Cheng, Director, Global Store Design
Role: Drawings, Fixture Design, Visual Merchandising
Return to Homepage