Responding to the evolution of physical, digital and mobile commerce, ALTA-NYC collaborates with multi-disciplinary teams to create high-impact and digitally immersive 3D Brand solutions for all campaign, retail and experiential needs. Creative + technical project execution for established and emerging brands, across multiple scales and formats.
Creative Direction / 3D x Digital Integration /

Architecture
Established in NYC, Working Globally. 3 Collaborative formats



1. Direct to Client Projects
2. Consulting for In-House Brand Groups
3. Consulting for Global Design + Advertising Agencies

ALTA-NYC is the design consultancy of NATAL[ie/Y] C.
A Registered Architect in New York State, Natalie S. W. Cheng holds a Bachelor of Environmental Studies from the University of Waterloo, and a Master of Architecture from Yale. With over 15 years' experience guiding high profile branded installations from concept to execution, she is adept at mobilizing global teams, and skilled at managing complex operations within a large network of stakeholders, technologists and partner agencies. For project list (2006 - 2023), team structures and skill sets, see

Capabilities

.
Towards a New Retail Paradigm:
In this period of unparalleled change, the most agile and competitive brands will successfully balance the human need for offline connection with the rapid embrace of new technologies.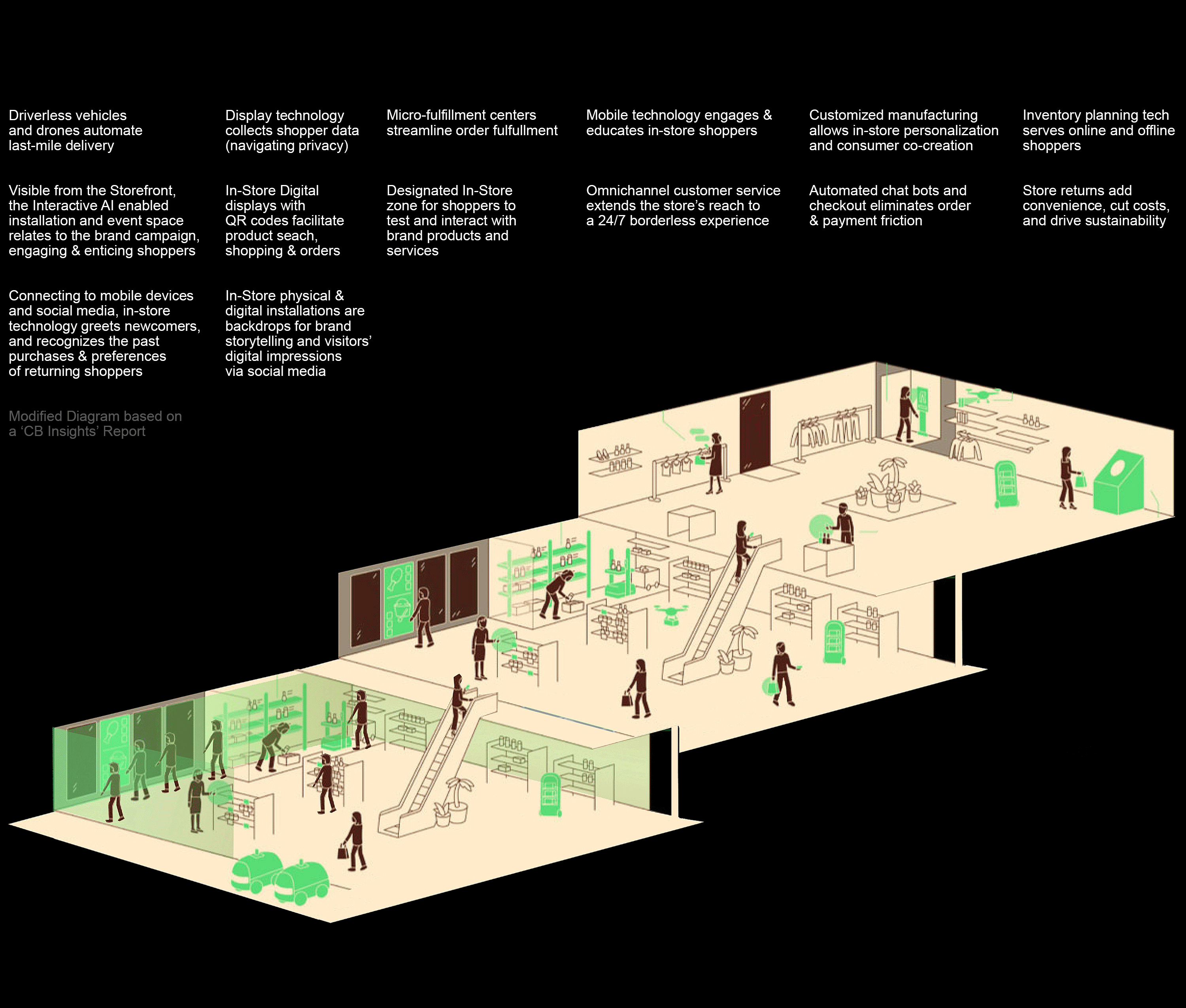 The Pandemic has accelerated consumer shifts towards digital brand expression, e-commerce, mobile, social + virtual commerce at an unprecedented rate.



While bricks + mortar retail will not become obsolete, there are logistical opportunities in the next decade to recalibrate a brand's real estate footprint. Re-imagining the intersection of physical space + digital technology will result in new types of temporary + permanent brand environments, and retail identities.
3D Brand Spaces + Experiences in a Digital World
Within the world of 'clicks + mortar retail', physical brand spaces host in-person shopping and transactions first and foremost, while serving as backup regional return and fulfillment centers. Together, digital experiences x physical spaces also reinforce culture and value by forging authentic relationships with brand audiences.
In a digital world, 3D brand spaces + experiences can be ..
1. A digitally enabled physical space for transactions + purchases, free of competitive clutter
2. A multi-dimensional environment to discover and interact with products + services
3. A hyperlocal forum to build community + culture; attracting loyalists and newcomers
4. An escape from the everyday via live programming; improving retention + new conversions
5. An immersive backdrop for storytelling, user generated digital impressions + co-creation
6. An AI enabled 4D journey; new brand insights via data analytics (navigating privacy)
Uniting digital and physical worlds, connected experiences provide seamless interactions throughout the entire consumer journey, across all channels. The connected consumer in the U.S. uses an average of 4.5 devices, 5.4 platforms and 4.2 channels.* - Forresters
Connected experiences empower consumers with multiple options for brand discovery, purchase, payment, pick-up, shipment, returns and replenishments. Consumers have access to brands 24/7, with the option to shop from any location, at any time, in a manner that best suits them.

Businesses employing connected technologies can significantly boost their ROX, ROI, and their bottom line. Through real-time data analytics & insights, connected technologies allow for improved consumer engagement & retention, order & supply chain optimization, and overall staff productivity.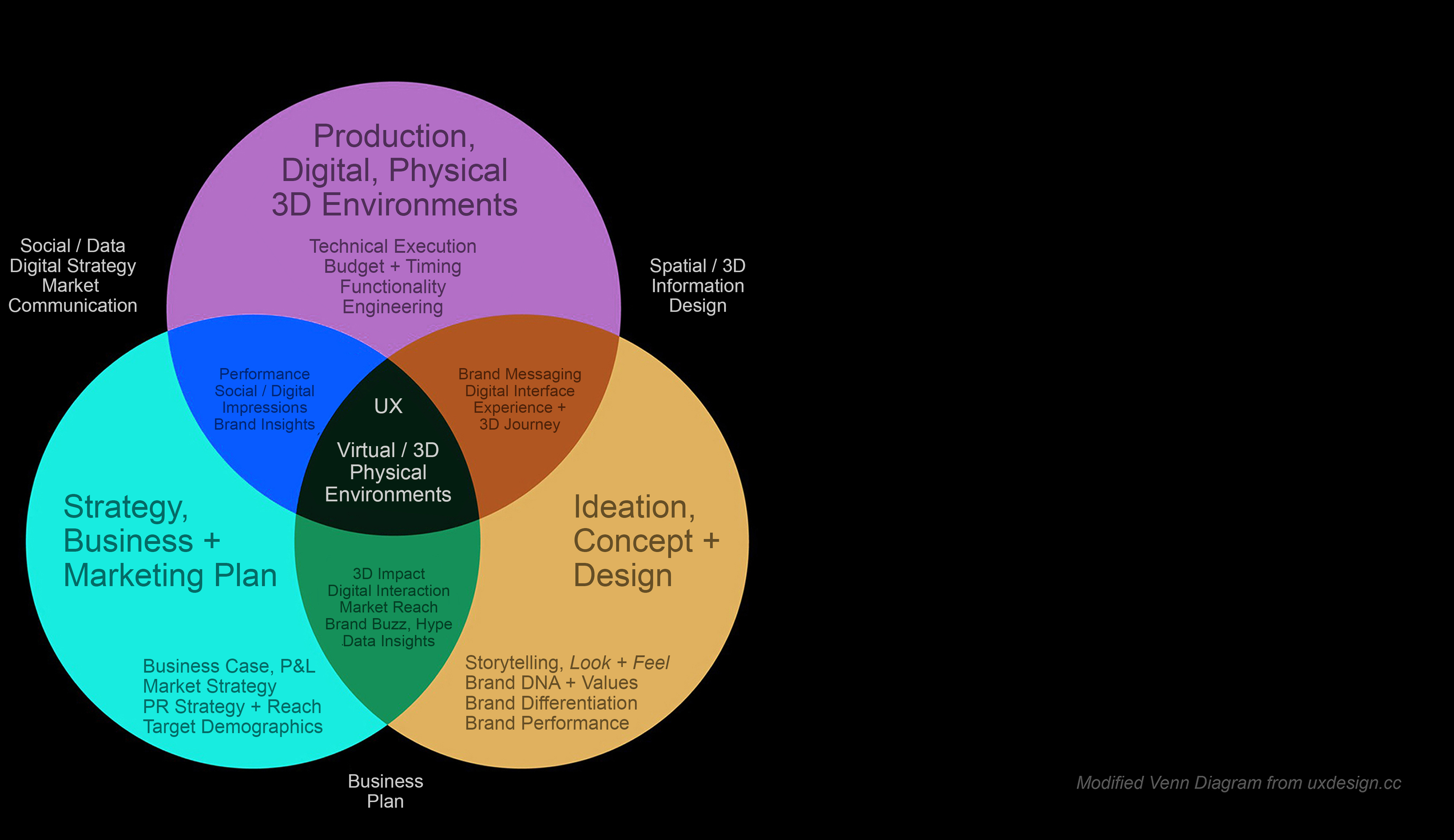 Design Methodology + Process: While there is no one size fits all scenario, this diagram guides the collaborative process. Concepts are ideated rapidly, allowing time to test, evaluate and adjust prototypes. Design, budget & timing are rigorously considered at every project phase.

Mindful of the desired business outcomes, the Brand's messaging and value proposition are clearly conveyed in tangible and emotional ways, across all channels. Interactive 3D environments are designed with flexible infrastructure to accommodate curated events, live-streaming, AR/ VR, customized apps, mobile shopping, social media exchange, and pop-culture impact.